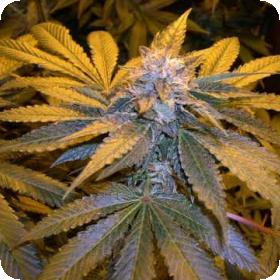 L.A. Confidential Regular Seeds
LA Confidential is known to many as the jewel in the crown of DNA Genetics' many achievements in the world of cannabis. It is among the most popular indicas on earth and the breeder has gone to great pains to isolate only the top specimens for harvesting seeds.
What you get with LA Confidential regular is the best there is anywhere and you get seeds that represent a true award-winning strain. The list of accolades for this strain is so long we don't have time to offer a complete one.
LA Confidential is the result of crossing two other excellent strains: O.G. LA Affie and Afghani. The result is the true definition of a well-represented, finely-balanced indica. What we think endears it to so many is the versatility of the effect that adapts to the level of the user's activity.
It isn't a couch-locker in and of itself but some users report those kinds of narcotic effects. Others tell a different story.
The effect leaves active users functional and allows them to keep performing all everyday tasks. It can be used as an effective sleep aid but it can also produce a steady, long-lasting stone when used early in the day (wake-and-baking).
In short, sit down and relax and it will couch lock you. Get up off the couch and it allows lets you get stuff done. It also has some remarkable psychedelic effects and produces and produces a kind of dream-state.
Users report an overwhelming enhancement of perceptions and someeven say it spurs creativity like a sativa.
There are two known phenotypes to LAC. With the differences only visible in the shape of the plant and in bud production. One is slightly smaller and less-productive than the other but the quality never wavers. both phenos have the same genetics and effects.