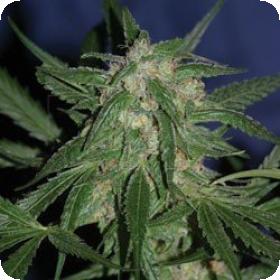 LA Cannalope (former Cannadential) Regular Seeds
DNA Genetics has taken two of its best strains and combined them into a new variety that is certain to become any LA Confidential fan's newest favourite.
LA Cannalope makes good use of the powerful indica characteristics of LAC along with the more uplifting, energising sativa qualities of Cannalope Haze. This is a truly visionary crossing of some excellent genetics. The resulting strain is one that simply has to be experienced to be believed.
DNA Genetics has always held themselves to a high standard when it comes to producing high-quality cannabis strains, and they go to great lengths to ensure that only the best genetics get distributed in seed form.
They singled out what they considered to be the best from their own breeding efforts and harvested the seeds that are now available to you through The Vault. We, along with DNA Genetics, are fully committed to delivering quality and these plants will most definitely impress.
They are easy to grow, and they clone well, too!
LA Cannalope plants grow to a medium height. They flower quickly with a flower period only about 8 weeks long. They take to growing in a variety of substrates, setups, and environments both indoors and out.
They are particularly well-suited to specialty hydro setups like SOG and ScrOG, and they require only typical light cycles and basic nutrients in order to thrive and produce a top-quality product.
When growing LA Cannalope outdoors, growers should plan planting and harvesting around a typical growing schedule, allowing for full advantage of warm Summer days months to be taken.
The plants will be ready to harvest beginning in the first week of October in the Northern Hemisphere. A six-seed pack offers a hefty harvest of great indica-sativa bud and the return on investment for commercial growers is significant.
Genetics:
Cannalope Haze x L.A.Confidential