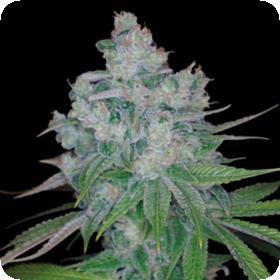 Kandy Kush x Skunk Regular Seeds
Kandy Krush x Skunk comes from two top of the line strains from DNA Genetics, Skunk and Kandy Krush, pretty simple.
These heavy hitters have come together to create something truly special. The most notable aspect of this strain is its excellent growth, not to mention its structure. Its growth is extremely vigorous right from the get go and it is recommended that growers make sure to prune and bind the branches to make sure it doesn't get too tall.
It is clear from the long, green leaves that this is the baby of Skunk and this combined with the thick, robust branches or Kandy Krush leads to some really impressive flowering. The buds are also Kush classics and are extremely dense whilst giving off the distinctive Skunk flavour and scent.
For growers who love a plant that can give a really good yield without too much effort Kandy Krush x Skunk is perfect.
This strain comes in its regular form meaning that it will grow into a combination of male and female plants. It will also need a specific light cycle to flower properly. These strains are usually more popular amongst breeders or old school growers.
Kandy Krush x Skunk can be grown indoors or outdoors. Indoors it has a flowering time of 63 days and can yield 500 - 600 g/m2. Outdoors it should be harvested between September and October and will give a yield of 500 - 600 g/plant.