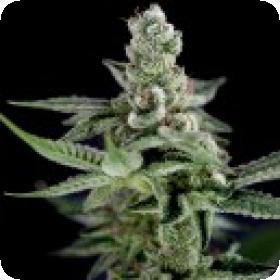 Crockett's Haze Regular Seeds
As the name suggests, Crockett's Haze is a haze-based cannabis strain that is strongly Sativa dominant.
However, the resemblance to normal, common, or garden haze ends there, and Crockett's genius takes over.
Crockett was given a cut of an exceedingly rare Mexican Sativa known as The Ranger by his friend, Midnight Rider, who had been seeking for a pure Michoacan Sativa. 
Crockett crossed The Ranger with his flagship variety, Family Secret, after recognising the potential for a world-class Sativa strain. 
Crockett's Haze, the resulting strain, is a ludicrously powerful Sativa that produces a lot of resin during its cycle. 
For obvious reasons, the DNA Army adores this strain — it's a huge favourite among their inner circle of connoisseurs and knowledgeable breeders, and you can now own the seeds for yourself and preserve these exceptional traits for future generations to enjoy.
Genetics:
The Ranger x Family Secret