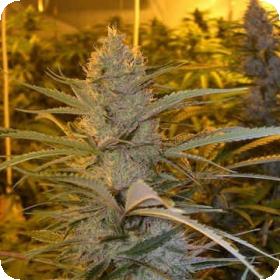 Cannalope Haze Regular Seeds
Cannalope Haze is a wonderful hybrid from the ever popular Haze family and a much loved strain called Mexican Michoacan. This combination has given birth to a wonderfully potent strain which gives great yields of resin covered buds.
The Mexican Michoacan strain was given to the breeders at DNA Genetics by some close friends and the wonderful Haze Brothers created the world cannabis revolution in the 70s, so Cannalope comes from impressive stock.
The plant is an extremely vigorous grower and thanks to its family tree it doesn't take very long at all to flower. It responds well to a wide variety of pruning techniques and, under the correct conditions, can grow to a pretty impressive size.
Its flowers are thick and allow for easy hashish extraction. The scent is a delightful mix of flowers and sweet, refreshing melon and the flavour is not much different. This is not a taste or scent you'll find in many other plants.
The effect is extremely stimulating for both body and mind making it excellent for recreational use.
Cannalope can be purchased in its regular form which simply means that it has not been in any way altered in order to render it more user-friendly.
Regular plants use photoperiod flowering, meaning that they flower in response to the cycle of the sun, and will grow into a combination of male and female plants. These are often extremely popular amongst old school growers and breeders.
This strain can be grown indoors or outdoors, has a flowering time of 8 - 10 weeks and a yield of roughly 500 - 600 g/plant. If it is grown outdoors in the correct conditions it should be harvested in the second half of October.