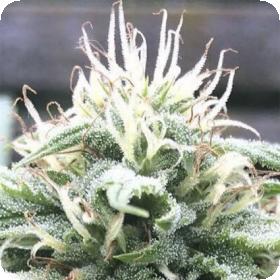 The White Star Regular Seeds
This strain is a unique orange and yellow resin tint. You 're going to wonder how white she is, and then later she turns out to be different colours until she matures.
A very good hardy strain on the mould. It's going to have a high medical value and help with stress. Smells like a citrus fire, then a skunky mint.
It's going to be a great, easy plant to grow and very fast growing. She's getting big, make sure she's got the support for those buds.
Genetics:
White Fire OG # 3 X Snowlotus (Male) x Critical Sensi Star (Female)