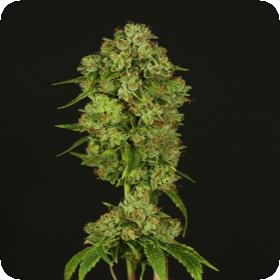 Casey Jones Regular Seeds
Casey Jones is a strong, vigorous marijuana strain whose characteristics indicate that the genetics of Casey Jones are two-thirds sativa. A hybrid blend of Trainwreck, Sour Diesel and Thai, despite its excellent quality, is very easy to grow.
It grows into a large plant requiring a reasonable amount of space and can be changed into a flowering mode in just 2 weeks of vegetative growth, taking another 8 weeks to complete.
It is very stable and its very high bud-to-leaf ration means that there is plenty of room for air circulation with little risk of mould formation. The central cola grows as large as the forearm and the buds are covered by a thick layer of THC crystals.
It works well in the Sea of Green systems both indoors and outdoors in regions with a continental climate. If the growing season is shorter, a greenhouse is recommended.
This award-winning strain has an earthy, spicy, fuel-thin taste with a quick-acting, uplifting effect.