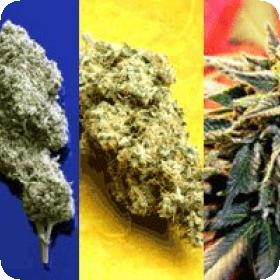 This strain is a combination of three strains, Sensi Star, Warlock and AK - 47. All of these are amazing strains with some serious power behind them. Star Gazer is high in THC and has tested up to 16 - 17%, this means the effect is pretty powerful. This is where it gets its name from, there are few better strains for just lying back and observing the beauty of nature.
As the plant matures it will grow fine, pink hairs and develop a rich flavour. It taste of pine, mint and wood with an equally delicious aroma. It will give impressive yields and is a relatively versatile plant.
Star Gazer is a regular strain, it will grow both male and female plants and require a specific light cycle to flower. This light cycle can be supplied by the sun or by grow lights. Breeders usually prefer regular seeds for their easy breeding and their overall simplicity. Regular seeds will grow a roughly even split of males and females so the breeder has plenty of choice when deciding on the parent plants.
Regular seeds are still popular with growers that prefer to do things a little more old school. They are even used in attempts to reintroduce cannabis into the wild, this is because they can grow, thrive and breed all on their own.
This strain grows best indoors and has a flowering time of 60 - 70 days.
Remember that the cultivation of cannabis seeds is illegal in some countries, please check the laws of your country before attempting to cultivate cannabis seeds.
Genetics:
Warlock (female) (40%) x AK-47 (female) (20%) x Sensi Star (male)(40%)