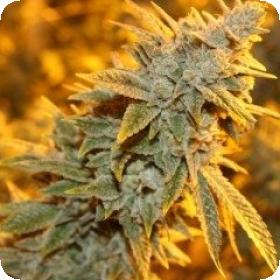 Strawberry Glue Regular Seeds
Strawberry Glue comes from the extremely popular original Gorilla Glue, one of the internet's most searched strains.
Gorilla Glue was combined with Strawberry Diesel in order to create this fantastically unique strain. Strawberry Glue has extremely high levels of THC and produces amazingly large buds covered in resin.
The flavour and scent has all the chemical naughtiness of Gorilla Glue combined with the sweet fruity taste of Strawberry Diesel.
Strawberry Glue is a regular strain and will grow into a mix of male and female plants. This strain is also photoperiod and will require a light cycle in order to flower.
Regular seeds are primarily used by breeders, who need the male plants in order to breed their own crops.
The split of males and females is roughly even, which gives the breeder plenty of choice when it comes time to select the parents of the next crop.
Choosing the very best plants will improve the quality of the next crop whilst weaning out weaknesses present in the previous crop.
This strain has a flowering time of 63 – 70 days and can be grown indoors or outdoors.
Genetics:
Gorilla Glue 4 x Strawberry Diesel