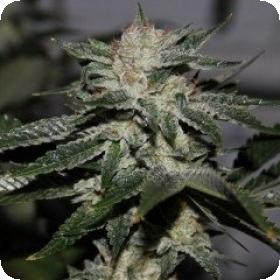 Original Bruce Banner Regular Seeds
This fantastic strain has been described as one of the strongest strains ever to come out of Dark Horse Genetics. This strain was created by crossing Original OG Kush and Strawberry Diesel.
This is the exact cross that originally created Bruce Banner, the same mother and father. In less than a dozen of these seeds they found the incredible BB3 and BB5 phenotypes.
These seeds are now available to the public and they are seriously impressive, not for the weak of heart.
Original Bruce Banner is a regular strain, which means it will grow into both male and female plants.
This strain is also photoperiod and will need a light cycle in order to flower, which can be provided by grow lights or the sun.
The split of males and females is roughly even, which gives the breeders plenty of choice when the time comes to choose parents for the next crop.
Selecting the very best male and female plant will improve the quality of the future plants. This is also a great way to remove genetic weaknesses.
This strain has a flowering time of 63 – 70 days and can be grown indoors or outdoors.