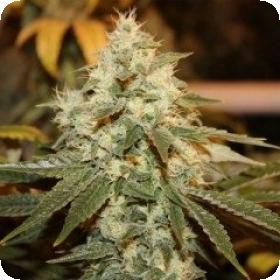 Chem Berry D Regular Seeds
This strain is a fantastic Chem cut by Dark Horse Genetics. Chem Berry D is an incredible yielding plant with a powerful aroma of funk.
This strain is a cross between Chem 4 and Strawberry Diesel, which together have created and extremely unique strain with a powerful flavour to match the intense scent.
This strain has a THC level of 25 -32%, meaning that it has a seriously strong effect and might not be ideal for new smokers.
Chem Berry D is a regular strain and will grow into a combination of male and female plants. It is also photoperiod and will require a light cycle in order to flower.
Most breeders use regular seeds because they need the male plants in order to fertilise the females. The split of males and females is roughly even, with a few more females than males.
This gives the breeder plenty of choice when it comes to choosing the parents of the next crop.
Selecting the very best plants from the previous crop will improve the quality of the next crop, whilst also removing any weaknesses from the previous crop.
This strain has a flowering time of 63 – 70 days and can be grown indoors or outdoors.