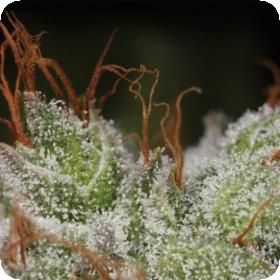 Bruce Banner BX 2.0 Regular Seeds
Bruce Banner BX 2.0 is by far one of the most infamous strains on the market today. I love a strain with a legend and this one just straight up is a legend.
It was created while the founder of Dark Horse was at university and was searching tirelessly for the perfect Sour Kush strain. He planned to it as a breeding plant with a number of other amazing seeds to make powerful hybrids.
This breeding continued after Dark Horse was established and eventually lead to the creation of Bruce Banner. Now, this strain was not named lightly, it is thought to be one of the strongest strains in existence.
Bruce Banner BX 2.0 has already won a number of awards and has taken a place as one of the top 25 best strains of all time. The THC level can hit up to a staggering 30% and the effect is incredibly powerful. This strain is not one to be messed around with lightly.
This is a regular strain which simply means that it will be mix gender and is photoperiod. Photoperiod plants require the cycle of the sun, or a mimicked cycle using grow lights, in order to flower.
This makes regular strains amazing for attempts to reintroduce cannabis into the wild. As long as they are in the correct environment they can grow, breed and thrive all on their own.
For personal growing regular seeds are usually preferred by breeders who actually have some use for the male plants. The males produce the pollen that will fertilise the females, however breeders must be careful to separate the plants to avoid any accidental breeding.
Bruce Banner BX 2.0 has a flowering period of 56 - 70 days and grows the best indoors.
Remember that the cultivation of cannabis seeds is illegal in some countries, please check the laws of your country before attempting to cultivate cannabis seeds.