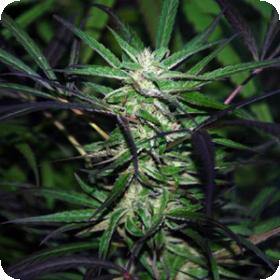 If the name looks familiar, it should. CannaBioGen Panama was originally developed by ACE Seeds and has been the subject of an ongoing breeding project that CBG is now ready to share with the world.
If you like ACE Panama, you will love the results of CBG's labour on this strain. Here is how the two differ: CBG bred four generations of classic Panama. They then pollenated it with a fourth-generation Neville's Haze.
The result is a Panama that flowers faster and produces better. This is an exceptionally potent - nearly psychedelic - sativa with virtually no indica influence in the overall effect.
The plants grown from these seeds have a very typical sativa look: tall with a strong central stem that supports its ample lateral branches.
The aroma is fruity with a hint of strawberry just like the original and the full-body high it delivers is as sativa as it gets. It has the same old-school feel as its ACE counterpart - very retro and exotic.
The plant can be very bushy and will need space to stretch. Indoor growers should be aware that these plants also grow very tall, like any pure- or mostly-sativa hybrid, making ample overhead space a must as well.
Grown indoors, any desired method will work and a 12/12 light cycle is recommended. Outdoors, Panama appreciates lower humidity but it will stand up to some colder nights.
In the Northern Hemisphere, growers should plan to harvest this strain by the end of October.
One of the key results of this particular breeding project is the reduction of flowering time. Sativas generally take longer than indicas and some by a huge margin.
The inclusion of the Haze genetics has decreased the flowering time of CBG Panama down to just 12 weeks and the buds are fully mature and ready to be cured within that amount of time.
Please remember that the growing of cannabis plants and the cultivation of seeds is illegal in some countries - please check the laws of your country and don't be growing any plants if it is against your country's laws.