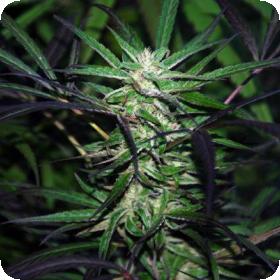 Mangobiche Kush Regular Seeds
Mangobiche Kush is a combination of two top quality strains, Mangobiche and Peyote Purple. These plants are extremely different but both offer some amazing traits. The flowering period has been reduced and the vigour increased to make one amazing grower. It is even a treat to look at, later in the flowering period it develops some beautiful purple and violet hues.
This beautifully compliments the white, sparkling resin that covers the buds. The flavour and scent are of sweet fruit which is takes from the Columbian side of its genetics. It has a strong and extremely relaxing mental effect which is great for those who fancy something a bit cheerier.
This is a regular strain and so will mostly be popular amongst breeders and old school growers. These strain will still grow a combination of male and female plants, they will also require a light cycle in order to flower. The split of males and females is roughly even and so there are lots of potential parent plants to choose from.
This gives breeders the freedom to play around with genetics and wean out any negative aspects of the strain. Regular seeds are also sometimes used in attempts to reintroduce cannabis into the wild as they can survive quite well on their own.
This strain should be grown indoors rather than outdoors.
Remember that the cultivation of cannabis seeds is illegal in some countries, please check the laws of your country before attempting to cultivate cannabis seeds.
AKA:
Mangobiche x Peyote Purple
Genetics:
Colombian Mangobiche x Peyote Purple