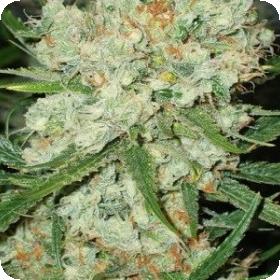 CannaBioGen Leshaze is a relatively complex hybrid strain. It has a very impressive and stable parentage. The mother plant was a fast-flowering phenotype from Lesotho in Southern Africa.
It is a mountain breed making it hardy and able to endure varied climate and atmospheric conditions. The father plant was a Skunk x Haze hybrid originating in Holland.
The resulting characteristics are very typically skunk in aroma and flavour and the look is classically sativa as this is where the vast majority of its genetics are taken.
The dominating effect of this strain is also classic sativa. It produces an uplifting but head-filling high that is also very energetic and long-lasting. Some users report experiencing highs that last two hours or more with virtually no ceiling.
The Haze genetics stay well in the background affecting little more than the THC content and overall experience. On the outside, the plants grown from these seeds are all skunk. The smoke is spicy and sweet and the effects are immediate.
When fully mature, the plants take on a tantalizing green and purple hue and there is no mistaking its signature aroma. The buds are large and thick and absolutely shimmer with a thick coat of crystalline resin.
Indoor growers will need to accommodate a relatively tall plant that grows straight with a moderate amount of lateral branching. Again, growers familiar with Skunk strains will know exactly what to expect with Leshaze.
It grows and behaves in a way that is predictable for those strains.
The plants respond well to virtually any soil or hydroponic-based growing style including Sea of Green and Screen of Greed. Outdoors, this strain should be planted with a planned harvest before first frost making late September to mid-October ideal in most parts of the Northern Hemisphere.
Please remember that the growing of cannabis plants and the cultivation of seeds is illegal in some countries - please check the laws of your country and don't be growing any plants if it is against your country's laws.