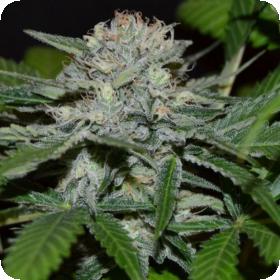 This strain by Cannibiogen is a combination of genetics that hail from the Moroccan Rif mountains and Himalayan Hindu Kush. The strain is completely Indica and the parents of the plant were Sandstorm and Peyote Purple, a winning combination. Hash Fruit is an absolutely stunning plant that is absolutely covered in trichomes. The buzz is powerful and active, ideal for those who need a good day time pain killer or just something to perk them up.
The effect is not only energetic but also extremely relaxing and calming, perfect for those suffering from stress or anxiety.
Hash Fruit is a regular strain which means that it will grow into a combination of male and female plants. They will also require the cycle of the sun, or similar grow light cycle, in order to flower. Often regular seeds are used by breeders who find them to be the simplest way of breeding their own seeds. Sometimes they are used by old school growers who are used to dealing with the male plants and have no interest in the new auto-flowering or feminised seeds.
Finally they can be used in attempts to reintroduce cannabis into the wild. They can grow, thrive and breed all on their own, as long as they are placed in the correct environment.
This strain should be grown indoors and has a flowering time of 56 - 63 days.
Remember that the cultivation of cannabis seeds is illegal in some countries, please check the laws of your country before attempting to cultivate cannabis seeds.
Genetics:
Sandstorm x Peyote Purple