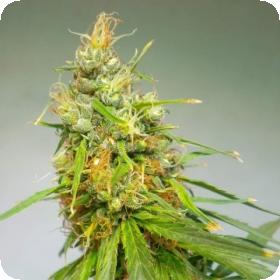 Durban is an early-flowering, easy-to-grow, extremely stable strain that grows well outdoors. It is extremely resistant to unpleasantly cold or wet weather conditions and produces amazing yields. This strain actually grows in the wild in South Africa and is extremely famous in the cannabis community. It is known locally as Durban Poison and its high is amazingly uplifting and cerebral.
This makes it an amazing recreational or medicinal strain. It tastes of aniseed and lemon and all of the buds will be coated in sparkling resin. This strain is ideal for anyone who wants an amazing mental effect without losing their ability to move around.
Durban seeds are regular which means it will grow a combination of male and female plants. These strains are usually preferred by breeders who actually have a use for the male plants. The pollen is used to fertilise the females and create a new crop of plants. The breeder can alter the genetics of the plants to their personal tastes, within reason, and can wean out any negative traits.
They are also often bought by old school growers who just prefer to use the classic form of seeds as opposed to the altered feminised and auto-flowering seeds.
This strain grows well indoors and outdoors, it has a flowering time of 9 weeks and should be harvested at the end of September.
Remember that the cultivation of cannabis seeds is illegal in some countries, please check the laws of your country before attempting to cultivate cannabis seeds.