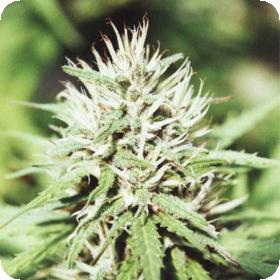 CannaBioGen Caribe Regular is a top-quality backcross of a pure Jamaica with an award-winning NL/Haze Hybrid.
The result is a mostly-sativa hybrid that produces an exceptional yield that, while it can grow a bit tall, can be grown well indoors given the right amount of space and conditions.
Any limitations that may exist with this strain are overshadowed by its superior resistance to disease, particularly those common to areas with very humid climates.
This is one sativa that growers the world over have come to love and it produces an end product one can't help but appreciate.
Some growers report that reducing the lighting period from 12 hours to 8 during the final weeks of development can impede reflowering and increase resin production in Caribe.
Overall flowering period for this strain is 70-80 days. Growing outdoors will take longer but yields will be comparable under natural sunlight.
Why CBG Seeds?
CannaBioGen (CBG) Seeds are the result of more than two decades of scouring the globe for the best specimens of the most celebrated strains.
With strains hailing from Jamaica and Columbia to old-world, time-tested varieties from places like India, Pakistan and Thailand, CBG takes meticulous care in selecting the best of the best in each variety used in their hybridization projects.
They have cultivated new and innovative varieties of cannabis working with over 100 different strains, many of which are original landrace varieties with generations of solid genetics behind them.
The commitment of CBG to excellence in all facets of cannabis cultivation has sent their developers to the ends of the earth seeking out seeds to not only develop into new hybrids, but also to preserve the history and lineage of the landrace strains so they can be enjoyed for years - even generations - to come by growers and enthusiasts alike.
Please remember that the growing of cannabis plants and the cultivation of seeds is illegal in some countries - please check the laws of your country and don't be growing any plants if it is against your country's laws.