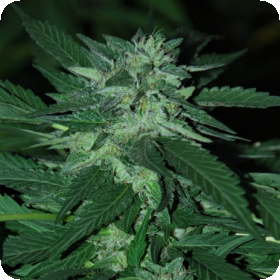 Bubba Delight Regular Seeds
Bubba Delight is a combination of two similar plants, Cannabiogen's own Peyote Purple and the classic Bubba Kush. Together these magnificent strains have created a vigorous, top quality plant. The scent is much like really good coffee, this comes from the Bubba parent, while the vigorous growth and impressive yield are all Purple genetics.
The Peyote parent has also given the strain a little extra kick in the potency department. Essentially this strain is ideal for any cannabis connoisseurs and even just for those who expect a lot from their crops. Bubba Delight is sure to deliver.
Bubba Delight is a regular strain which means that it will grow a combination of males and females. This aspect makes them perfect for simple breeding. While it is very possible to breed using auto-flowering or feminised strains, it can be quite difficult. Most breeders prefer to use regular strains because they are mixed gender and they flower in response to the cycle of the sun.
Old school growers also tend to prefer regular plants purely because that's how it has always been done, up until recently that is, and they simply prefer it.
This strain grows very well both indoors and outdoors, for best results it should be harvested 8 weeks from seed.
Remember that the cultivation of cannabis seeds is illegal in some countries, please check the laws of your country before attempting to cultivate cannabis seeds.