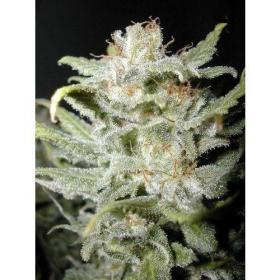 Cannabiogen Bangi Haze is a hybrid cross of a female Congolese and a male Nepalese. It is one of the most inbred varieties of cannabis there is. It is fast-flowering and simple to grow. It has an aroma which is a curious mix of spice and sweetness and has a flavour that perfectly matches. Being predominantly sativa, it provides a potent yet mellow effect.
The plants grown from these seeds are of a manageable and compact size, and they grow well either indoors and out. Their yield is good whether grown in soil or hydroponically. Seedlings can be potted individually when they reach 9 inches and the mature plants grow to a petite 33 inches with nodes full of resinous trichomes.
The yield of Bangi Haze is not as high as other strains, but it is a clear lesson in quality over quantity. After 9 to 10 weeks flowering time, the plants start producing thick, powerful buds. When grown outside, the plants make great use of available sunlight, providing an even better yield as time passes.
Its breeding has helped The Bangi Haze adapt to growing in a variety of conditions including colder outdoor climates. This makes it a good choice for beginners looking for a strong plant that allows some margin of error. Grown outdoors, it is best to harvest late September through early October. The potency of Bangi Haze improves when left for a second flowering cycle.
Dried Bangi Haze buds have a unique aroma: notes of frankincense, onion and shallot are common descriptions. It gives the senses a sharp jolt but is also naturally hypnotic. The flavour is honey sweet at a first taste and is followed closely with a liquor-like end note. When combined, the effect it has on the senses is extremely powerful.
Please remember that the growing of cannabis plants and the cultivation of seeds is illegal in some countries - please check the laws of your country and don't be growing any plants if it is against your country's laws.