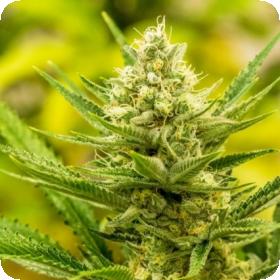 Queen of Soul Regular Seeds
This strain is a combination of Cinderella 99, Vortex and Princess which created the Queen of Soul. This strain is lucky enough to have some of the best genetic material in existence.
Cinderella 99 especially is thought of as the ultimate heavy weight strain. It took 3 generations to finally reach Queen of Soul but it was worth every minute. The plant itself resembles a small Christmas tree in shape and grows large, heavy buds.
She gives off a scent of tropical fruit with a hint of spice citrus and patchouli. The buds are completely coated in resin and the high is energetic and cerebral. Over all this strain is definitely one of the crowning glories of Brothers Grimm Seeds.
Queen of Soul is a regular strain and so it will grow into a combination of male and female plants. It will also require a light cycle in order to flower, this will follow the pattern of the sun. Regular seeds are primarily used by breeders who require both genders in order to breed easily.
They are also popular amongst old school growers and activists.
A lot of groups use regular seeds in attempts to reintroduce cannabis into the wild. If they are planted in the correct environment they can grow and breed all on their own.
This strain has a flowering time of 60 - 65 days and will grow well both indoors and out.
Remember that the cultivation of cannabis seeds is illegal in some countries, please check the laws of your country before attempting to cultivate cannabis seeds.
Genetics:
Princess x Princess/ Cinderella 99/Vortex