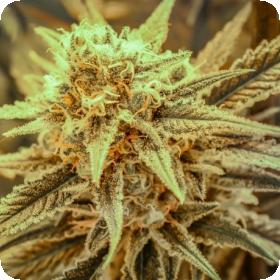 Killer Queen Regular Seeds
This strain was originally created by BCGA's own Vic High who bred Airborn G 13 with the classic Grimm strain Cinderella 99. Now Brothers Grimm have reclaimed the strain and it is an instant hit. There were a few variances in the pheotypes but all of them were absolutely amazing. This flavours and smells emitted by the plant are mouth watering and can range from Hawaiian punch to black cherry.
This strain is being re-released to the public and now everyone can have their very own Killer Queen. The high is completely mind blowing and is bound to impress even the pickiest smoker.
Killer Queen is a regular strain and so will grow a roughly even mix of males and females, maybe a few more females. This makes them ideal for breeders who plan on cultivating their own future crops. For breeders the easiest method of breeding is to use a male and a female photoperiod plant.
Photoperiod plants simply require a light cycle in order to flower, whether that be from the sun or from grow lights. Regular seeds are also generally quite popular amongst the more old school breeders out there.
This strain will grow well indoors or outdoors and has a flowering time of 56 - 65 days.
Remember that the cultivation of cannabis seeds is illegal in some countries, please check the laws of your country before attempting to cultivate cannabis seeds.
Genetics:
Airborne G13 clone x Cinderella 99 male