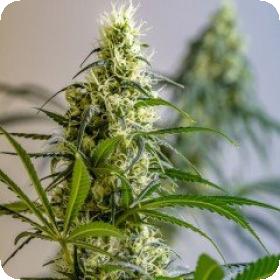 Green Avenger Regular Seeds
There has never been doubt in the minds of Brothers Grimm fans when it comes to the infamous "Genius" clone. This clone has achieved legendary status in no time and has often been one of the favourite breeding plants, it has been used to create some incredibly hard hitting hybrids.
As a result of its popularity the equally infamous "Mr Soul" created the incredible Green Avenger.
This strain was also produced in the honour of his friend "subcool" from TGA who was an enormous fan of the Genius original. Obviously the mother plant of the hybrid is Genius and the other genetic contributors were the Vortex sisters of the clone.
The result is pretty mind-blowing, a short, squat plant with amazing yields and an impressive floral display. It has a powerful smell of pineapple and citrus with that classically euphoric high.
Green Avenger is a regular strain which just means that it hasn't been played around with in order to render it "user-friendly". Regular seeds simply grow a combination of male and female plants that flower in response to the cycle of the sun, or similar grow light cycle.
Most breeders use regular seeds as they allow for the simplest method of breeding. However, they are still very popular amongst a huge portion of old school growers.
This strain takes around 8 weeks to flower and is worth every, single minute.
Remember that the cultivation of cannabis seeds is illegal in some countries, please check the laws of your country before attempting to cultivate cannabis seeds.
Genetics:
Genius female x Vortex male