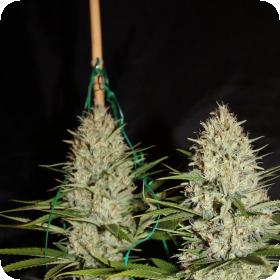 Silver Mountain Regular Seeds
When it comes to massive yields and a truly expert blend of top-notch cannabis genetics, Silver Mountain is a strain that ought to come quickly to mind and, after having a go at these seeds, we believe it will be.
This is a Haze-Chem hybrid that takes full advantage of Bodhi's Appalachian genetics, crossed with the iconic Super Silver Haze by Mr. Nice.
The result: a mostly-sativa powerhouse that is absolutely electric in its effect and one that defines the sativa experience for many who have tried it.
The buds are full, dense, and loaded with resin and give off a few distinct aromas. Melon and citrus with a flavour profile that also has elements of Chem and Haze.
The flavours are much the same with the addition of a singularly spicy overtone that really defines the strain in terms of taste. The effect is an all-over-body, energetic, and electrifying high.
The plants can get quite large all around so indoor growers will need to be able to provide ample space, both vertical and horizontal, when working with Silver Mountain.
They respond best in nutrient-rich soil and are recommended for greenhouses predominantly. Not enough room in the grow house? They respond well to outdoor cultivation as well and are very easy to handle.
When growing outdoors, yields will increase but flowering will take longer by about two weeks on average. Indoor flower time is about 9-10 weeks.
Outdoors it can take 11 or 12 but the wait is well worth it. The sativa genetics make it a bit slow to finish so ensure that they have enough time to soak up summer sun and finish up by early October for harvesting.
Silver Mountain is also heralded as a useful medical strain, having qualities that make it a good treatment for conditions like depression and anxiety.