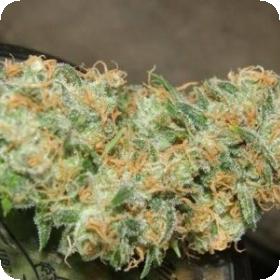 Prayer Tower Regular Seeds
Prayer Tower has been praised throughout the cannabis community as being the quintessential "wake and bake" strain. It goes directly to the head and produces a great all-over body high.
Pure, mellow, and no paranoia or anxiety - everything good about the experience with none of the less pleasant effects. In short, it is as close to perfect cannabis as one can expect to find.
The parent strains are Lemon Thai Sat and Appalachia, the latter being one of the breeder's premier strains for creating their amazing hybrids. What makes this strain even better is its eclectic presentation of phenotypes.
Some are very bushy with sativa-like colas to more indica-looking plants that still maintain the same trippy and heady effects. The flavours and aromas range from sweet and fruity to musky and earthy with hints of woods and hash.
The plants grow to a medium to tall height, depending on the pheno, so arrangements will need to be made in advance in the grow room to ensure that each plant has the space and light necessary to thrive.
They do well in a number of grow setups but will perform best in pH-balanced soil with a steady flow of appropriate nutrients. Light cycles are typical: 18/6 for vegetative and 12/12 during flowering.
Flower time is about 9 weeks under most indoor growing conditions and or most phenos.
Outdoor plants will also grow according to pheno, some smaller than others with variances in yields. The average yield is considered to be average to high and the quality of the finished product is consistent across all known phenotypes.
Start these plants early outdoors - some will be ready for harvest before others. On average, the flower time is about 11 weeks outdoors.