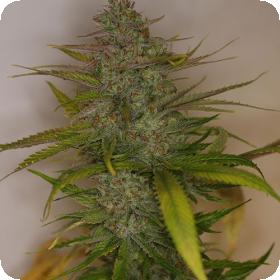 Mountain Temple Regular Seeds
Mountain Temple is a large-yielding hybrid that brings to the table all the best characteristics of a Haze-Chem hybrid. Bodhi Seeds started with a genetically-superior Appalachia male with the Haze-dominant Temple.
This strain is ideal for those who appreciate a truly psychedelic sativa effect and a unique smell and taste that make the experience even better.
Those aromas and flavours are very spicy and hazy with hints of melon, citrus with an undercurrent of Chemdawg and floral notes. The effect is very powerful and energising and wraps the body in wonderful relaxation and tranquility.
Anyone who has tried Silver Mountain knows what to expect here as that strain and Mountain Temple are very similar in their effects. Some users say that despite the almost electric sativa effect, the indica side still shows through with a great head-filling stone.
The genetics also make this strain a fast-finisher and a good yielder. The plants grow tall, so they are recommended for outdoor growing, but they will do fine indoors provided the growth space has high ceilings and can accommodate the needs of large plants.
Growers recommend soil and potting methods predominantly for this strain along with typical light cycles: 18/6 during vegetation and 12/12 during flowering are ideal when growing indoors.
Outdoors, the plants will stretch considerably and will produce very impressive yields. They will take longer to flower under less controlled circumstanced but the difference is generally less than two weeks on average.
Harvest time is also typical for outdoor plants beginning early October and finishing before threat of widespread frost.
Mountain Temple is touted as a good medical strain, being described by medical marijuana users as an effective treatment of a number of emotional and physical ailments including anxiety, depression, loss of appetite, migraine, arthritis, and various aches and pains in the muscles and joints.