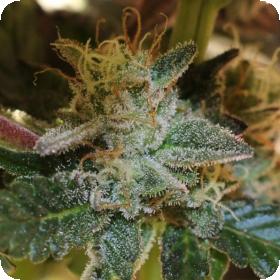 More Cowbell Regular Seeds
This wonderful strain is a combination of the classic Girl Scout Cookies and Hash Plant. The buds are extremely reminiscent of the cookie plant whilst the structure is considerably more similar to that of the Hash Plant.
This strain is beloved for its wonderful resin production as well as its enchanting scents and flavours. Its aromas and tastes include that of fig newtons, molasses, sugared dates, lemon mint tea, French toast, balsamic and even fresh tires.
A truly exciting smoking experience that cannot be found with many other strains. This strain is recommended for nighttime use as it is relatively potent and its effects are heavy, sleepy and relaxing. This makes the strain a perfect nighttime medication as well as being perfect for those suffering from sleeplessness, depression, anxiety and stress.
This strain is come to its regular form which means that it has in no way been altered in order to render it more user-friendly. These seeds are still greatly preferred by old school growers and breeders everywhere.
They are also used by those who would try to reintroduce cannabis into the wild. This is because the regular plants are mix gendered and photo period flowering, meaning that they can breed and thrive on their own in the right environment.
Breeders also tend to prefer regular seeds due to the fact that they are simple to breed and provide a mix of males and females. This allows them to select the very best of their current crop to act as their parent plants.
In turn this means that genetic illness and weakness can be bred out whilst improving the uniformity and the quality of the crops.
This strain can be grown indoors and outdoors making it ideal for all sorts of breeders and growers. It has a flowering time of 9 weeks and a medium yield.