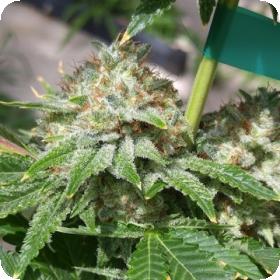 Hollyweed is a cross between Hollywood Pure Kush and '88 G13 x Hash Plant. Hollywood Pure Kush is a classic California Kush strain which is similar to plants like Bubba Kush or SoCal Master Kush. It is one of the first strains to really define Kush as a flavour, the spicy hash and strong notes of Skunk.
This strain took 20 years to cultivate and was worth every minute of it. '88 G13 x Hash Plant has regularly been used as a parent plant for other hybrids by Bodhi Seeds because it is extremely productive, however it does need plenty of room to grow. Hollyweed as a result is an amazing strain that is perfect for Kush lovers.
This is a regular strain which means that it will grow into a combination of male and female plants. It will also require a specific light cycle in order to flower, this can either come from the sun or from grow lights.
Regular seeds are very popular amongst breeders who require the males as well as the females to breed their next crop. They are also popular amongst activists attempting to reintroduce cannabis into the wild. In the right environment they can grow, breed and thrive all on their own.
This strain is very versatile and can be grown indoors or outdoors.
Remember that the cultivation of cannabis seeds is illegal in some countries, please check the laws of your country before attempting to cultivate cannabis seeds.