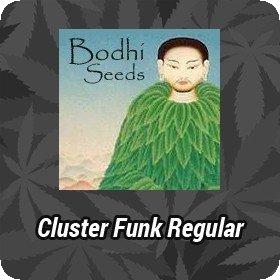 Cluster Funk Regular Seeds
Cluster Funk by Bodhi Seeds uses the same 88G13/HP that has been used in a number of other strains such as Tranquil Elephantizer and Dank Sinatra.
The male Hashplant pheotype has a truly amazing structure which is perfectly complimented by the Chem 91 Skunk strain which makes up the other half of this plant.
Chem 91 has been used in some of the most popular strains around such as Sour Diesel, OG Kush, and most other elite strains available today.
The smell and taste combines citrus and and fuel, it also grows into a nice full plant with wonderful branching. Cluster Funk combines these amazing and time tested parent plants in order to create a really pure, old school funk strain.
Cluster Funk is a regular strain which means it will grow into a combination of male and female plants. It also means that they have not been tampered with in order to make them more user friendly.
Because of this they are often the preferred choice of old school growers and breeders. They are also often used by activists who want to reintroduce cannabis into the wild.
This is because, when placed in the correct environment, regular seeds can grow and breed healthily completely on their own.
For breeders regular seeds are by far the easiest choice since the crops grow into a roughly even amount of male and female plants. This means that the breeder has plenty of options when it comes to selecting a mother and a father plant for the next crop.
Selecting parent plants is a very important part of breeding as the next crop will take on the genes of these two plants. Selecting the very best plants ensures the quality of the next crop as well as weaning out and genetic weaknesses.
This strain has a relatively short flowering time of just 8 - 9 weeks. It can be grown indoors or outdoors making it ideal for all types of grower and breeder. It gives a good yield and will grow to a medium height making housing it less difficult for indoor growing.