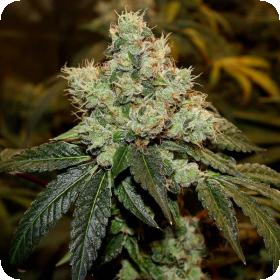 Chem Kesey by Bodhi Seeds is a little bit of a mystery. A combination between '91 Skunk VA and '88 G13 x Hash Plant. These strains have both been used in a number of other breeding projects by Bodhi Seeds and have always gone down swimmingly. The '91 Skunk VA is a cut of the original Chemdawg and it brings all of that signature power and flavour.
Along with '88 G13 x Hash Plant, which gives its own amazing and unique traits, Bodhi have created a really special strain. It is well balanced between Sativa and Indica giving it a very pleasant effect.
This strain is sold in the form of regular seeds which is good news for breeders. With genetics like these who would want to have a bash at breeding their own special plants. Regular seeds will grow into a combination of male and female plants that respond to the cycle of the sun, or grow lights, in order to flower.
Regular seeds aren't just for breeders however, a lot of old school growers much prefer the original seeds rather than altered versions like feminised or auto-flowering seeds.
This strain is perfect for all types for grower and breeder as it will grow well indoors or outdoors.
Remember that the cultivation of cannabis seeds is illegal in some countries, please check the laws of your country before attempting to cultivate cannabis seeds.