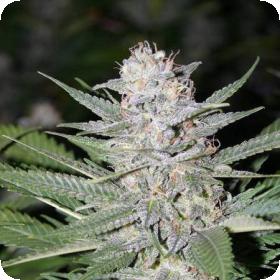 Blueberry Hashplant Regular Seeds
Blueberry Hashplant is the new and improved version of the already impressive Blue Dream. This strain has been called the queen of California outdoors cannabis.
The alterations made by the talented breeders at Bodhi Seeds have given this great plant a shorter flowering time and a nice bushy structure. The scent and the flavour of the plant are delightful with their fruity yet refreshing notes as well as a hint of pine.
The effect of the strain is extremely impressive, it has a full body relaxation paired with a soaringly creative mental effect. This makes this strain the ultimate relaxation smoke and is ideal for those suffering from pain, depression, anxiety or issues with sleep.
The yield of the strain has also been greatly improved and so has the resin production. Many content growers have agreed that this plant is really a treasure whether you grow it indoors or outdoors.
Blueberry Hashplant is sold in its regular form. A lot of breeders and growers still prefer to purchase regular seeds despite the release of feminised and autoflowering seeds.
They still have a number of advantages, especially for breeders. Regular seeds have not been altered in order to make them easier to grow which is a big plus for a lot of old school growers and breeders.
A regular crop will be roughly 50% male and 50% female, sometimes there will be a few more females than males. These crops are often planted in the wild by those who hope to reintroduce cannabis into the wild.
Regular seeds are far more independent than the altered alternatives and can happily grow, thrive and breed in their natural habitat.
Blueberry Hashplant can be grown indoors and outdoors making it ideal for all types of growers and breeders. It has a flowering time of 9 weeks and gives a medium-high yield.