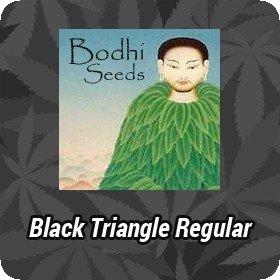 Black Triangle Regular Seeds
Black Triangle is a combination of a famous 90s era Florida OG, which is more commonly known as TK which means Triangle Kush, and a very dark and powerful 88G13/HP.
Both of these are heavyweights of the cannabis world, one is extremely Indica dominant and the other is very Sativa dominant. The combination of these two strains has created a really rather impressive strain with a citrusy and earthy scent and flavour with hash overtones.
This strain is extremely potent and is already extremely popular. This strain, being a pre release strain, is still currently in testing. However the strain is available for those cannabis enthusiasts who just can't wait for the official drop next year.
Black Triangle is a regular strain which means that it has not been altered in any way to make it more user friendly. Regular seeds have become less and less popular since feminised and autoflowering seeds came to be.
However good seed companies still supply them to ensure that they supply something for everyone, even the more old school growers and breeders. Regular seeds are primarily used by breeders and activists.
For activists regular seeds are ideal because, if placed in the right environment, they can grow and breed on their own. This means that they can be reintroduced into the wild. For breeders the fact that these seeds provide both male and female plants is a large advantage.
Males and females are necessary for stress free breeding and the wide variety means that the breeder can carefully select the parent plants.
This means that the breeder has more control over the quality of the future crops as well as being able to breed out any genetic weaknesses.
This strain is versatile and easy to grow as it can be grown indoors and outdoors. It has a flowering period of around 9 weeks, gives and impressive yield, and will grow to a medium height.