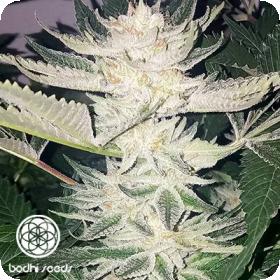 Black Raspberry Regular Seeds
This strain by Bodhi Seeds is a cross between Goji OG Raspberry F2 and Wookie 15. The resulting strain has an incredible combination of smells and flavours. It is beautifully perfumed with berries, lavender and absinthe. Its many flower clusters are dripping in glittering resin and the effect is extremely potent.
It has an uplifting and happy effect which makes it ideal for all smokers from recreational to medicinal users. It has a short flowering time and has really absorbed all of the greatest traits from its two parent strains.
Black Raspberry is a regular strain which means that it hasn't been altered in order to render it more user friendly. Regular seeds are still the favourites of old school breeders and growers all over the world. They will grow into a combination of male and female plants and will flower in response to a light cycle.
They are especially popular amongst breeders and activists attempting to reintroduce cannabis into the wild. If planted in the right environment they will grow, breed and thrive all on their own.
It will only take 9 weeks to flower and can be grown indoors or outdoors.
Remember that the cultivation of cannabis seeds is illegal in some countries, please check the laws of your country before attempting to cultivate cannabis seeds.