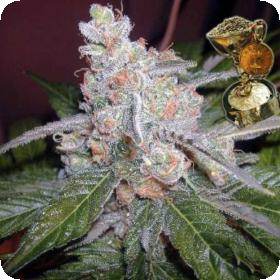 This multi award winning legend is known only as The Purps. Never before has anyone seen such flavour with such a powerful, pungent, yet tasty smell. The Purps has won Best Strain of the Year as well as twice winning the BC Bud Depot Cannabis Cup. This strain is serious, the effect is all anyone could want in a strain. A soaring and relaxing euphoria without the nasty crash landing afterwards.
Many have said that this strain has the best tasting smoke of any strain every created. Not only does the taste hit immediately but it lingers, as does the lovely scent, making it an all over pleasant smoking experience. This is a plant for the real cannabis lovers out there.
It is possible to purchase The Purps in its regular form which simply means that it hasn't been altered in order to appear more user friendly. Unlike feminised seeds it will grow naturally into a combination of male and female plants. It also will flower in response to the cycle of the sun unlike auto-flowering plants. Most old school growers and breeders still much prefer to use regular seeds for their resilience and their breeding capabilities.
This strain has a flowering time of just 8 weeks and can be grown either indoors or outdoors.
Remember that the cultivation of cannabis seeds is illegal in some countries, please check the laws of your country before attempting to cultivate cannabis seeds.