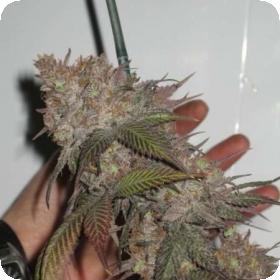 The Black is an ominous name for a strain and it is well earned. This strain is a super powerful Indica strain which is not for new users or for those who can't hold their smoke. It is a great medicinal strain however and can be used by those suffering from depression, insomnia, PTSD, stress, and pain. The fanned out leaves are coated in THC crystal which turn from purple to black as the plant matures.
This is of course the other reason that the strain was given its name. The high is instant and powerful which is one of the reasons that it landed a place in the High Times Top 10 strain list in 2008 and competed in the Spannabis Cup in Barcelona.
This is a regular strain which is why it is extremely popular amongst old school growers and breeders. Regular strains grow into a combination of male and female plants which makes them extremely easy to breed. Around half of the crop will be male which gives the growers plenty of options when it comes to selecting the parent plants for the next crop.
This way they can tailor the genes of their next crop to their own personal tastes.
This strain flowers in 8 - 10 weeks, should be harvested in October and can be grown indoors or outdoors.
Remember that the cultivation of cannabis seeds is illegal in some countries, please check the laws of your country before attempting to cultivate cannabis seeds.