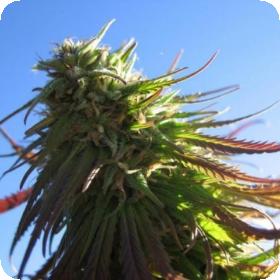 Texada Timewarp Regular Seeds
For everyone out there who loves growing outdoors, this is the strain. It needs barely any attention during the growing period which produces large quantities of buds in a short amount of time. The buds smell and taste of a combination of pine and fruit. It gives a good THC production at 21% which makes it a great medicinal strain, it is extremely pleasant and relaxing.
It can be used to reduce headaches, to combat stress, to relieve pain, depression and inflammation. It can grow to a height of 2.5 meters and if it is topped it will get bushier and stop growing upwards.
Texada Timewarp is a regular strain, again this fits very well with its independence. For activists this is the ideal strain for reintroducing into the wild. If it is planted in the right environment it will happily grow, thrive and breed all on its own. Regular plants grow a combination of male and female plants and requires the cycle of the sun in order to flower.
This can be mimicked indoors with grow lights to the same effect. Breeders tend to prefer to use regular seeds as do old school growers.
This strain should really be grown outside and can be harvested in September.
Remember that the cultivation of cannabis seeds is illegal in some countries, please check the laws of your country before attempting to cultivate cannabis seeds.