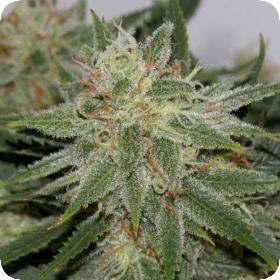 Pamplemousse Regular Seeds
Pamplemousse, or Grapefruit if you don't speak any French, is an Indica dominant strain that gives amazing yields and flowers very quickly. Visually it is quite the stunner with its pink and purple colouration as it matures.
The quality of the buds is really impressive with a THC production that can reach up to 26%. The scent is, as may have been expected, one of grapefruit and citrus with a taste to match.
It has a calming and pleasant effect which makes it a superb medicinal strain.
It is often used by those who are suffering from anxiety, stress, loss of appetite, depression, nervous issues, and chronic headaches. It doesn't grow too tall, around 122cm, so space is no issue.
This is a regular strain which just means that it will grow into a combination of male and female plants. It also means that it will flower in response to the cycle of the sun or, inside, a timed light cycle.
Regular plants are still very popular amongst almost all breeders as they present the easiest method of breeding.
The fact that the split of males and females is almost even means that they can choose two of the very best plants as the mummy and daddy of the next crop. This removes genetic weaknesses found in the previous crop and enhances the best qualities of the plants.
This strain can be grown indoors or outdoors, indoors it will flower in just 6 - 7 weeks and outdoors it should be harvested in early October.
Remember that the cultivation of cannabis seeds is illegal in some countries, please check the laws of your country before attempting to cultivate cannabis seeds.