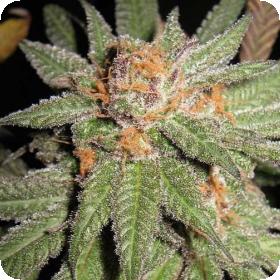 Dynamite OG Regular Seeds
Dynamite OG is a combination of two great strains, Dynamite (BC Grapefruit IBL) and OG Kush. It is Indica dominant and has a sweet but sour scent of grapefruit with an earthy citrus flavour and an exhale of pine and Kush. It's a pretty amazing taste experience. Visually it grows large, resinous buds with purple and green flecks all over them.
It has a THC level of 23.6% which gives it a powerful but relaxing effect which is great for really enjoying a snack or for having a lovely nap. It is also used medicinally and can help with a loss of appetite, chronic pain, tension headaches and migraines, stress and general low moods or depression.
This strain is a regular strain which means that it hasn't been altered to be more user friendly. Most old school growers and breeders prefer to use regular seeds over feminised and auto-flowering seeds. Regular strains will produce a crop of half male, half female plants. They will also flower in response to a specific light cycle.
Regular seeds are especially popular amongst breeders who require the male and the female plants to easily breed their next crop. They are also popular amongst activists trying to reintroduce cannabis into the wild. As long as they are planted in the correct environment regular seeds can breed and thrive on their own.
Outdoors it should be harvested in early October and indoors it has a flowering time of 7 - 8 weeks.
Remember that the cultivation of cannabis seeds is illegal in some countries, please check the laws of your country before attempting to cultivate cannabis seeds.
Genetics:
Dynamite (Grapefruit IBL) x OG Kush