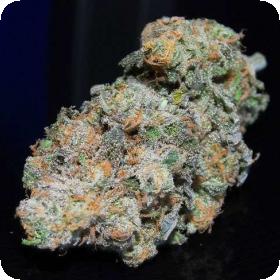 Blue Dream by BC Bud Depot is a Californian, sativa dominant strain which is ideal for commercial growers. Blue Dream gives extremely high yields of dense, potent buds. It was originally created by crossing Blueberry and Super Silver Haze. The buds have an amazing coating of resin and a THC level of 19.74%. It has the same classic blueberry flavour with just a hint of hash behind it.
Its effect is soft and calming which makes it popular amongst medicinal marijuana users. It can be used to help those who are suffering from pain, stress, a lack of appetite and fatigue. It is less likely to make the user particularly sleepy or unresponsive.
This strain comes in the form of regular seeds. Regular seeds will grow into a roughly even split of male and female plants. They are also photoperiod plants which means that they require a specific light cycle in order to flower. Most old school growers and breeders still prefer to go with the tried and tested regular seeds, especially the breeders.
There are ways to breed using other types of plants but it is significantly more difficult. Regular seeds are also often used in attempts to reintroduce cannabis into the wild. If they are planted in the correct environment they will grow and breed all on their own.
Blue Dream can be grown indoors or outdoors, it has a flowering time of 8 - 9 weeks and should be harvested in October in the cooler, Northern latitudes.
Remember that the cultivation of cannabis seeds is illegal in some countries, please check the laws of your country before attempting to cultivate cannabis seeds.
Genetics:
Blueberry x Super Silver Haze