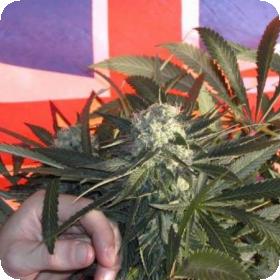 BC Sweet Tooth Regular Seeds
This awesome strain is an even further improved version of Sweet Tooth #3. This strain gives still gives an average yield but it more than makes up for it with its thick, sweet, sticky buds. It is almost completely Indica dominant with an intensely relaxing effect. It is often used as a medicinal strain and can make a big difference to those struggling with poor appetite, depression, pain, insomnia and post traumatic stress disorder.
It still has the same sweet, sugary taste and scent as the previous Sweet Tooth strains and excellent THC levels of 22.5%. BC Sweet Tooth is a vigorous growers that will really reward those who treat it well.
This strain is a regular strain which means that it will grow into a combination of male and female plants, it will also require a light pattern in order to flower. Usually regular seeds are more popular amongst breeders who require both genders. The split of male and female plants is almost even, with maybe a few extra females, which means that they have plenty of parent plants to choose from.
In order to improve the next crop they have to ensure that only the best genes are passed on. Regular seeds can also be reintroduced into their natural environment since they are capable of thriving and breeding all on their own.
BC Sweet Tooth can be grown indoors or outdoors and has a flowering time of just 6 - 7 weeks. Outdoors it should be harvested in early September.
Remember that the cultivation of cannabis seeds is illegal in some countries, please check the laws of your country before attempting to cultivate cannabis seeds.