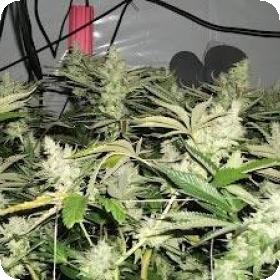 BC Rockstar Regular Seeds
Here comes BC Rockstar, an amazing medicinal strain by the breeders at BC Bud Depot. It is also known as Rockstar Kush and is an Indica dominant indoor strain that gives very average yields of amazingly potent buds. It has a THC level of 23% but still gives an amazingly relaxing high that is perfect for medicinal users.
Usually it is used to counter depression, inflammation, headaches and stress. It is also perfect for those who are dealing with appetite issues and who are in chronic pain. BC Rockstar is an award winner and won 2nd place in the 2012 Hybrid Category of the Cannabis Cup. Of course the buds still have that classic Skunk/Kush pungent aroma.
This strain can be purchased in its regular form, ideal for breeders. Regular seeds will grow into a roughly even split of male and female plants, with maybe a few more females, and will require a light cycle in order to flower. Breeders prefer them because they are simple and no nonsense. They can select the best performing males and females from the crop to be the parents of the next crop. This way they insure that the quality and uniformity of their crops only goes up.
BC Rockstar has a flowering time of just 8 - 9 weeks and grows best indoors.
Remember that the cultivation of cannabis seeds is illegal in some countries, please check the laws of your country before attempting to cultivate cannabis seeds.