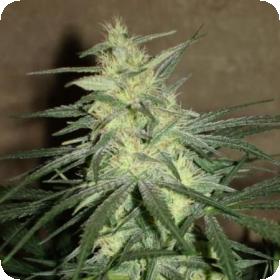 BC Mango is an Indica dominant strain which is a combination of two different versions of Mango. The name comes from the taste and scent that emanate from the plant as it is smoked, obviously one of strong, sweet mango. Luckily while it is growing it doesn't smell of much at all meaning that it doesn't need as much ventilation as some plants, and it can't be easily detected outdoors.
It has a THC level of 25% and grows beautiful, resin coated buds. It can be used as a medicinal strain or as a recreational strain. Medicinally it is usually used by those suffering from insomnia, lack of appetite, depression, pain and post traumatic stress disorder.
Structurally the plant grows a large main cola with minimal side branches and grows to a height of around 150 - 180cm.
This strain comes in its regular form which is ideal for breeders. Regular seeds will flower in the usual way, by responding the a light cycle such as the sun, and will grow into a combination of male and female plants. There are still a lot of old school growers and breeders who much prefer regular plants to auto-flowering or feminised plants. They are often used in attempts to reintroduce cannabis into the wild as they are capable of flowering and breeding all on their own. As long as they are planted in the correct environment that is.
The flowering time of BC Mango is just 7 - 9 weeks and it grows well indoors and out. If grown in the Northern Hemisphere it should be harvested in late September.
Remember that the cultivation of cannabis seeds is illegal in some countries, please check the laws of your country before attempting to cultivate cannabis seeds.