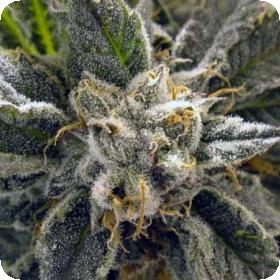 CBD God is, as some might have guessed from the name, one of the best medical marijuana strains out there. It comes from a special pink pistil pheno-type of the original God Bud and an amazing CBD Harlequin BX4 male plant with a 7% CBD level.
The hybrid is Indica dominant and can give as much as 4 - 16% CBD. The THC can still be very high but in some cases the CBD can be as high as 16% and the THC as low as 4%.
The fact that these natural variations occur in the plant means that medicinal breeders can tailor the plant to suit their specific needs. It can be used to ease issues such as pain, Parkinson's disease, seizures, lack of appetite and insomnia.
This really is one incredible plant that should be in any medicinal users garden immediately.
CBD God can be purchased in the form of regular seeds. A lot of activists use regular seeds in attempts to reintroduce cannabis into the wild. If they are planted in the right environment they can grow and breed all on their own.
This is because they will grow into a combination of male and female plants and they flower in response to the light cycle of the sun. They are mostly popular amongst breeders who require both genders in order to easily create seeds for their next crop.
This strain can be grown indoors or outdoors and has a flowering time of just 8 - 9 weeks. If it is grown outdoors in northern latitudes it should be harvested in October.
Remember that the cultivation of cannabis seeds is illegal in some countries, please check the laws of your country before attempting to cultivate cannabis seeds.
Genetics:
God x Hawaiian x Purple Skunk