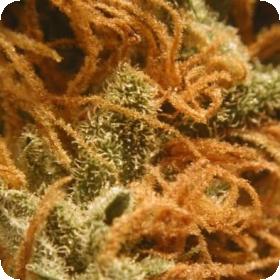 BC Cheese is an amazing hybrid of two absolute classics. That's right this is the love child of UK Cheese and Skunk #1, ideal for all of those real cannabis connoisseurs out there.
UK Cheese has been one of the most popular strain in the world since it was created in the 90s and Skunk is so famous for its quality that the work Skunk has become synonymous with great weed.
The resulting plant is high yielding, fast growing and incredibly potent. The THC level sits at 23% making it ideal for those suffering from depression, headaches, inflammation, stress and pain.
Don't worry the plant has kept all of that famous Cheese scent and taste whilst taking on Skunk's impressive yields and amazing potency.
This strain can be purchased in its regular form which simply means that it can become either male or female. It is also a photoperiod strain meaning that it requires a specific light cycle in order to flower.
Most breeders prefer to use regular seeds since they provide a combination of male and female plants. These plants can then be watched carefully and the very best performers get to be the parents for the next crop.
This strain has a short flowering time of just 8 - 9 weeks and can be grown indoors or outdoors.
Remember that the cultivation of cannabis seeds is illegal in some countries, please check the laws of your country before attempting to cultivate cannabis seeds.