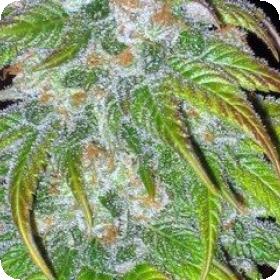 Big Bud is not just the name of this amazing plant, it's an extremely accurate description. This plant gives insane yields, to the extent that growers may want to tie up the bottom branches or they could snap from their excessive weight. The buds themselves are even gorgeous with their fine red hair and glistening crystal resin. The effect is a pleasant, long lasting buzz that will just keep on giving.
This strain has been super popular since its conception and not just for its high yields but also its completely unique taste. The flavour and scent of the plant are deeply fruity with a sweet muskiness behind them. This plant is guaranteed to startle even the most experienced grower with her massive yields, ideal for those who are growing for commercial use.
This strain is a regular strain which simply means it will grow a combination of male and female plants whilst requiring a light cycle in order to flower. Most old school growers and breeders still much prefer regular seeds to the new auto-flowering and feminised strains. Regular seeds, due to their mix of genders, are mostly popular with breeders. It is far easier to breed using regular plants and this way breeders can ensure that they select the best male and female as the parent plants in order to create superior seeds for the next crop.
Big Bud should really be grown indoors and has a short flowering time of 8 - 9 weeks.
Remember that the cultivation of cannabis seeds is illegal in some countries, please check the laws of your country before attempting to cultivate cannabis seeds.