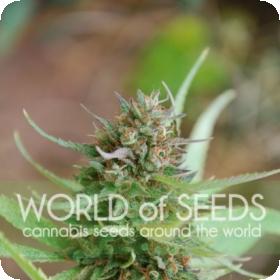 Strawberry Blue Feminised Seeds
Strawberry Blue is a cross between the Strawberry strain and New Blue. The taste and scent of these genetics make this strain extremely desirable in the cannabis community.
A spectacular specimen was selected from the Blue line and was crossed with the deliciously fruity Strawberry strain. The resulting plant is primarily Sativa but has a nice, short flowering cycle.
The strain grows impressively long branches which makes the plant perfect for SCROG or SOG systems. The plant stands up well to mould as well as pests and disease. It has a powerful effect which is caused by its very high THC content.
This means that the cerebral effects of the strain are ideal for a nighttime painkiller. It is also useful to those who are suffering from insomnia, stress or anxiety.
Strawberry Blue is a feminised strain which means that it will only grow into female plants. This has become very popular amongst growers as it removes the irritation of the male plants. Regular seeds grow into a half-and-half mix of males and females.
The males need to be removed at the start of the flowering process so this wastes around half of the plants, and therefore half of the money spent on the seeds.
The process of removing the males also wastes a lot of time and energy. Feminised seeds can also be used for breeding however the method is a lot more difficult. Female plants are capable of producing a pollen similar to that of the male pollen.
This pollen can be used to fertilise another female which means that the resulting seeds will only contain female genetics.
This in turn means that these seeds will only grow into female plants. These seeds are also higher in quality and uniformity than regular seeds. In fact over 80% of strains which have been feminised have shown improvement in both areas.
This strain is extremely versatile and can be grown indoors and outdoors. Indoors it has a flowering time of 65 - 70 days and outdoors it should be harvested in early October. Its indoor yield is around 350 - 450 g/m2 and its outdoor yield is roughly 350 - 500 g/plant.
Genetics:
Strawberry x New Blue Line