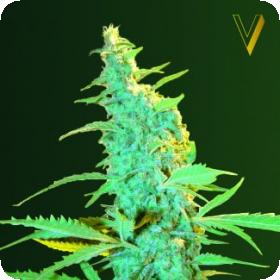 Ultra Power Plant Feminised Seeds
Ultra Power Plant is a fantastic THC heavy strain that is the result of pure inbreeding, having never been crossed with another strain. As the name suggests this plant can grow to a pretty impressive size.
This strain will also produce a monster yield of dense buds that are dripping with resin. Ultra Power Plant is very uniform and has a soft, subtle flavour and scent. The effect is powerful and hard hitting, again hardly a surprise given the name. 
This strain is feminised and will only grow into female plants. Feminised seeds are ideal for growers who don't plan on breeding their own crops. For these growers the male plants are a complete pain as well as a huge waste of resources.
Around half of a regular crop is male and, since they can harm the female plants during the flowering process, they have to be thrown away. This is a massive waste of time, money and energy that would be much better used on the female plants.
Feminised seeds also tend to be higher in quality and uniformity than regular plants. For this reason some breeders also prefer to use them, even though feminised breeding is very difficult. 
This strain has a flowering time of 8 weeks and can be grown indoors, outdoors or in a greenhouse. 
Remember that the cultivation of cannabis seeds is illegal in some countries, please check the laws of your country before attempting to cultivate cannabis seeds.