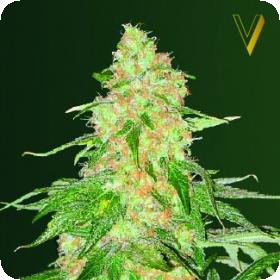 Super Extra Skunk Feminised Seeds
Super Extra Skunk is one of the first successes in the attempts to create a next level strain. It is a cross between Skunk #1 and a super resinous, pure-bred Afghani Hash plant that has been around forever.
Super Skunk was first released in 1990 and immediately impressed the world, right off the bat it won the mostly indica Cannabis Cup. This strain is extremely reliable and ticks every box a grower or breeder could possibly have.
Super Extra Skunk is extremely potent, amazingly vigorous and has an enchanting scent that makes the mouth water. 
This strain is feminised and will only grow into female plants. Feminised seeds are also photoperiod and will need a light cycle in order to flower. Feminised seeds are great for growers, especially if they don't plan on breeding their own crops.
For these growers the male plants are a massive pain, and can actually harm the females during the flowering process. As a result they have to be thrown away, which wastes a huge amount of time and money.
Feminised seeds also tend to be higher in quality and uniformity than regular seeds. Some breeders also prefer to use them, even though feminised breeding is very difficult. 
This strain has a flowering time of 6 – 7 weeks and can be grown indoors or outdoors. 
Remember that the cultivation of cannabis seeds is illegal in some countries, please check the laws of your country before attempting to cultivate cannabis seeds.