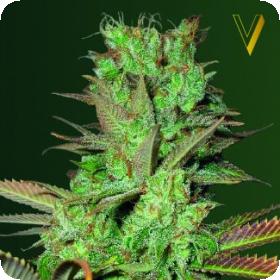 This strain is a super fruity strain by Victory Seeds, it has won a fair few awards and is one of the most famous strains around. This strain is high in THC and produces amazing yields.
The plant will grow a multitude of side branches that are absolutely covered in buds. This strain can get a fair bit of stretch to it when grown outdoors and will need a decent amount of growing space.
The effect starts off with an uplifting buzz and descends comfortably into a nice, full body stone. This strain is perfect for collectors and connoisseurs, especially due to its amazing mango flavour. 
Seemango is feminised and will only grow into female plants. Feminised seeds are also photoperiod and will require a light cycle in order to flower. These seeds are fantastic for growers who don't plan on breeding their own plants.
For these growers the male plants, which take up around half of a regular crop, are a huge issue as they can harm the females. This means they have to be removed, which is a huge waste of time and money.
Feminised seeds also tend to be higher in quality and uniformity. Some breeders also prefer to use them, even though feminised breeding is extremely difficult. 
This strain has a flowering time of 6 – 8 weeks indoors and 10 – 11 weeks outdoors. 
Remember that the cultivation of cannabis seeds is illegal in some countries, please check the laws of your country before attempting to cultivate cannabis seeds.