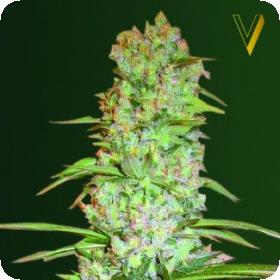 Red Russian XXL Feminised Seeds
This strain produces massive yields of powerful buds that are dripping with resin. Red Russian XXL is often used for medicinal purposes due to the intense, pleasant cerebral effect that lasts and lasts. The plants are stunning to look at and extremely potent. They are indica dominant and grow to be dense and consistent with super resinous flower tops. This strain has a powerful scent that is present in the flowering period and during growth, meaning they will need to be well ventilated. 
Red Russian XXL is a feminised strain that is ideal for growers who don't plan on breeding their own crops. For these breeders the male plants are a problem and can harm the females. This means they have to be removed, and since around half of a regular crop is male, this is a massive waste of resources. Using feminised seeds ensures that the grower saves a bunch of time, money and energy that would usually be wasted on the males. Feminised seeds also tend to be higher in quality and uniformity than regular seeds. For this reason some breeders also prefer to use them, despite the difficulty of feminised breeding. 
This strain has a flowering time of 8 – 9 weeks and can be grown indoors or outdoors. 
Remember that the cultivation of cannabis seeds is illegal in some countries, please check the laws of your country before attempting to cultivate cannabis seeds.